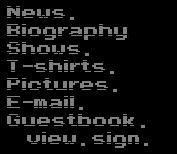 BIOGRAPHY
New York, London, Paris, Munich.. everybody's talking about... The Equators.
e-qua-tor :
1. n. imaginary circle around the earth
2. n. person skilled to some degree in the performance of melodic pop music who is indigenous to the Savannah, Georgia area and performs regularly at Savannah Joe's Coffee House.

The Equators love pop music, but not the kind your little sister listens to. We're talking about the kind of pop music heard when folks like Lennon/McCartney and Brian Wilson were blasting from transistor radios in 65. Melody is the highest pursuit and songs don't exceed four minutes. The band lineup fluctuates and the shows are a community experience... uniting audience and band into an experience that's.. well.. it's better than spending Friday nights saying, "I dunno, what do you wanna do?" Please come out and see the show. Tip us, also.. that would be totally super... but you don't have to...